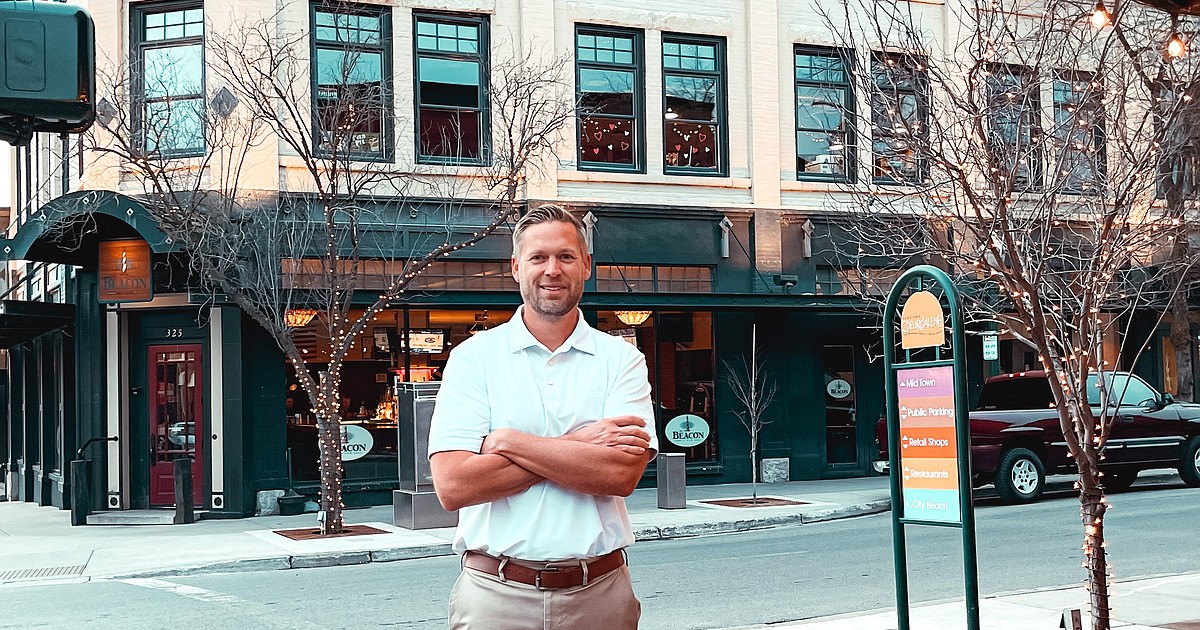 On the way to the top | Coeur d'Alene Press
The three-story building on the northwest corner of Sherman Avenue and Fourth Street was purchased by Jeremy Wallis for the Willamette Valley Bank Company.
Keeping its depository branch at Seventh and Sherman, the third floor of the new location is the Willamette mortgage office with Wallis in charge. A lounge will be added in April. The Beacon and Crown and Thistle businesses remain on the first floor with the national offices of Pita Pit on the second floor.
Pronounced Will-am-et, Willamette Valley Bank has 20 locations in the Northwest with its headquarters in Salem, Oregon. Visit www.willamettevalleybank.com.
Lyfe Coffee opens on Lakeside Ave.

Now, in the former location of Calypsos Coffee Roasters, is Lyfe Coffee Roasters & Public House at 116 E. Lakeside downtown.
The menu includes freshly brewed coffee and other beverages, breakfast sandwiches, burritos and bowls, muffins, scones, bagels, breakfast sandwiches, beer, and wine.
Local artists display their work on the walls, musicians share their talent, and a meeting room is available for groups and businesses. The owners are Dave and Brooke Miller and Dean and Christie Strawn.
Hours of operation are 7 a.m. to 4 p.m. Monday, Tuesday, and Wednesday, 7 a.m. to 7 p.m. Thursday, 7 a.m. to 9 p.m. Friday and Saturday, and 9 a.m. to 3 p.m. Sunday. Phone 208-665-0591. Happy Hour is from 4 p.m. to 7 p.m. Thursday-Saturday, and live music is 7-9pm Friday and Saturday.
Dairy Queen opens Hayden drive-thru

With its open and indoor drive-thru soon to open, Dairy Queen Grill & Chill is located at 513 W. Hayden Ave.
Owners and sisters Jessica Blain and Amanda Buchanan ran the Rathdrum Dairy Queen for 12 years. The interior of the new venue has booths and tables for 72 people, warm lighting and lively music. Food includes their Stackburger, chicken baskets, hot sandwiches, cones, sundaes, and the signature Blizzard Treat.
Opening hours from 10 a.m. to 9 p.m. from Sunday to Thursday and until 10 p.m. on Friday and Saturday. Phone 208-518-1531. Visit milkqueen.com. Based in Minneapolis, Dairy Queen has more than 7,000 locations in 20 countries.
Hayden's Sargents has new owners

Offering great food and traditional drink in a historic location, Sargents Restaurant at 9021 N. Government Way in Hayden has new owners: James Bassett and Tim Archer.
The chef is Joe Tyllia. Phone 208-772-4114. Visit www.sargentsrestaurant.com.
Now the Tidbits

Companies that will be in the new Lucille building at 2605 N. Fourth St. are Northwest Construction Management, Align Yoga Studio, Refined Salon, Heirloom and Stylus Wine & Vinyl Bar.
Watch for The Manna Shop at 510 Sherman Ave., the former Christmas At the Lake store.
Post Falls RV Campground is under construction at 70 W. Cabela Way between Cabela's store and State Line Walmart at The Pointe at Post Falls.
Many of the 16 lots are available in the planned Prairie Crossing shopping center at the northeast corner of Highway 41 and Prairie Avenue.
A hamburger restaurant and cosmetics salon will be located in the new building at Fouth and Lakeside.
A new building for Etco Services is under construction off Huetter north of Seltice and I-90
The PACR office building is under construction at 1857 W. Hayden Ave.
Breaking Bread Bistro will be where Davis Donuts was at fourth and best.
The old Shopko building will be a new location for Tri-State Outfitters inventory.
A sign on Wayne Drive in Hayden reads "Future home of Blue Chip Chiropractic".
The Open Arms Real Choices Clinic will move from 1800 Lincoln Way to 8056 N. Wayne in Hayden.
Metro Express Car Wash is building a large new location at the northwest corner of Highway 41 and I-90.
The Mill will be a four-storey mixed-use building at Government Way and Mill Avenue with retail on the ground floor and 43 apartments above.
Consign Furniture has a "coming soon" sign southwest of the US 95-Lancaster Road intersection.
An express outdoor car wash is being built in the 3400 block of Seltice in Post Falls.
Major changes are coming to the Greenbriar Inn & 315 Kitchen under new ownership at 315 Wallace Ave.
The Rebel Junk Shoppe at 2424 N. Fourth St. will expand to a streetside location.
Cornerstone, a four-story commercial and residential building, is under construction in Riverstone.
Bruchi's quick service restaurant is planned for a new building north of the corner of Highway 41 and Mullan Avenue.
The former Ugly Fish restaurant building will be a Berkshire Hathaway Realty in Riverstone.
Watch for the construction of the Vantage Point Brewery across from Michael D's Eatery on Coeur d'Alene Lake Drive.
A Sweet Lou's restaurant, Dollar General store and Grease Monkey auto store will be located at the Athol crossings.
CdA Kids Dental will be at 1341 N. Northwood Center Ct.
TownePlace Suites by Marriott Hotel is being built where the Outback Steakhouse used to be, at the southeast corner of I-90 and Northwest Boulevard.
Several steel storage buildings will be constructed at 3758 W. Hanley Ave. (near Atlas Road) for Hern Ironworks.
A Capriotti's Sandwich Shop will move into the old Chipotle Mexican Grill building at 305 W. Appleway.
A Sarah Hamilton FACE seat will be at 2120 Northwest Blvd.
A new commercial and residential building, Midtown Center, is under construction at 821 N. Fourth St.
Watch for major changes with the Burger Bunker and Bunker Bar on Spokane Street in Post Falls.
The Garnet Breakfast in the city center will soon be opening in the old Broken Egg building on Government Way.
A new gas station-convenience store will open soon in the northeast corner of Atlas in Seltice.
A large storage complex and new headquarters for Steel Structures of America is being built near Highway 41.
The Den will be a new tavern at 761 N. Idaho St. in Post Falls.
My Nails & Spa will be on Canfield Ave.
The CD'A Corner Store adds a kitchen and tables downtown.
Coeur d'Alene Nissan will have a major addition to its building off US 95.
The Mountain Goat Lounge is under construction and is connected to the downtown Moose Lounge.
The Post Falls Pavilion food court will be near the intersection of Highway 41 and Horsehaven.
Now that the snow is gone, the I-90 litter needs to be picked up somehow.
Contact Nils Rosdahl at [email protected]