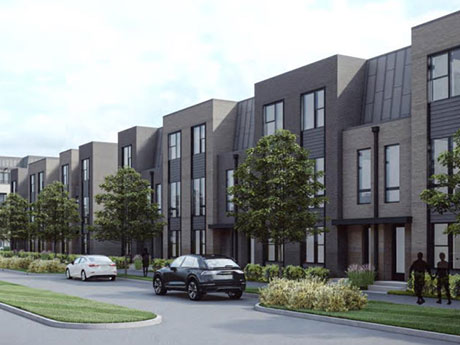 Construction loan secured for The Terraces in Wildhorse Village, Missouri
A US$23.5 million construction loan has been secured for the construction of a mixed-use development dubbed The Terraces at Wildhorse Village in Chesterfield, Missouri. Pier Property Group secured the loan for the project which will be developed on 80 acres of land.
The US$500 million development will feature 70 Class A luxury townhouses. The townhouses will all have two-car garages and three bedrooms spread over 2,250 square feet. Work is expected to begin later this summer and be completed in about a year.
Features and Amenities
Look for construction leads
Townhouses for The Terraces at Wildhorse Village will feature stainless steel appliances, glass shower doors, quartz counter tops and custom flooring. There will be an interior courtyard, a resort-style swimming pool, a terrace with grilling stations and fire pits, and a fitness center. Additionally, there will be a dog park, dog spa, business center, resident lounges and bike storage. In addition, a 400-space parking structure will be provided for these multi-family complexes.
Also Read: US$120 Million Northeast Lofts Housing Project in Kansas City, Missouri
This is the fourth construction loan Northmarq has secured from multiple bank lenders for PPG, a well-known multi-family developer in the St. Louis area. The sum of these loans exceeds $125 million.
Commentary on The Terraces at Wildhorse Village project
David Garfinkel, senior vice president/general manager of Northmarq's regional office in St. Louis, commented on the project. He said: "We are delighted to be working with PPG owner Michael Hamburg on financing the construction of this excellent facility in a fantastic location in Chesterfield.
Mr. Hamburg recognizes the benefits of working with Northmarq on the construction lending side. Whether it's lower interest rates, higher interest payments or larger loan products. We have helped him in many ways to get better deals in these deals. INB is also a fantastic lender with a simple procedure.
Before the treasury surge, we were able to lock in rates for PPG, and INB held the rate down through a pledge. A very attractive 5-year fixed rate loan was made available to us. If possible, Mr. Hamburg prefers to fix his rate in order to eliminate any risk from the transaction. This is an exceptional recurring lender/borrower relationship.